I just moved everything back into my plain, boring binder. The two new binders just didn't work as well. My original binder has one feature I'm not willing to lose. It opens completely flat. The new binders didn't. I get into this binder every single day and it is much easier for me to use if it stays open like this:
I do like the two pouches on the front cover but the new 2" binder had a feature I would trade those for. This: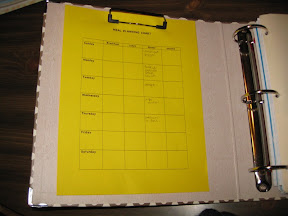 I would use a clip like this to hold my weekly meal plan.
Also, the bigger binders I've tried (this one and others I already have) aren't as easy to turn the pages in. As often as I use this, I need to be able to turn the pages easily.
Who would have thought this would be such a difficult part of the challenge? I'm not giving up on the idea of a cute binder, I'm just going to have to look a little harder.