OK, I took my cute binders back to Target. I looked there and at Office Depot but couldn't find a cute binder with the features I liked. So, I picked this up from Target:
It has two inside pockets and stays open. Those are both features from my original binder that I was not willing to give up. (btw-I don't usually keep a Cinderella bookmark in my binder but I wanted to show the second pocket.)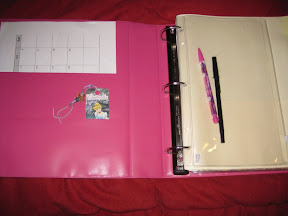 It also has a feature that allows it to be opened with one finger and the ring is gap free. That's important because I hate it when the pages get stuck and don't turn smoothly. I use this binder every single day so something that seems insignificant, like how the pages turn, becomes something very significant.
I chose pink (because it's my favorite color.) I thought I'd put a piece of scrapbook paper in the front and spell out our last name or home management binder in solid paper. I saw it on another blog. I'm linking up to
A Day in the Life of Sonya
because this may be where I got the idea. Instead of being on the cover it's how she did her divider pages. If I find the post I'm thinking of, I'll add another link.
I looked in my paper and found these:
The stripes match the binder but I think I like the ladybugs better. I'm pretty sure I saw a green one that would look really nice with it. It looks like I'm heading back to Target.