As moms, we change diapers. We probably don't realize how many diapers we are going to change before that first baby comes. We probably don't realize how many times we are going to have someone else's poop on our hands or clothes. We probably wouldn't believe you if you told us that, while we still think it's gross, having poop on our hands becomes no big deal. Well, maybe that's just me.
I've been changing diapers now for seven years. When my daughter was little, I watched two other babies her age (three babies under one.) When they were two, and still in diapers, I had my second baby. The big kids were still in diapers, my son was a baby and I watched a baby his age. Five in diapers (for a short period of time.) Over time, some kids left, new ones came. I've always had at least one in diapers. Currently, I have a two year old and an eight month old in diapers. Wow, I've changed a lot of diapers.
At some point in time every baby starts to reach to their diaper area. Sometimes they reach around the side, sometimes they go right down the middle. That can be messy. Most of us hold a baby's legs like this: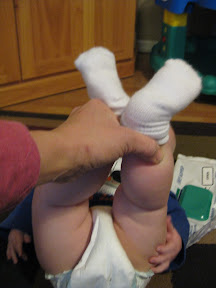 This allows us to lift the baby up to replace the dirty diaper with a clean one. As you can see by the picture, the baby can reach right where the mess will be. I've learned that if I fold the baby's legs (kind of like criss cross applesauce) I still can hold them with one hand and it makes it impossible for the baby to reach the mess.
This little maneuver has helped me avoid some very messy situations.
I'm linking up to Works for Me Wednesday at
We are THAT Family
.