The challenge this week at
A Bowl Full of Lemons
is a
recipe binder
. Yay! Another challenge I will be able to complete. I already have a recipe binder and I'll just add to it and make it pretty this week.
I love my recipe binder. As I have said before, I am not a good cook. I am not comfortable in the kitchen. I can
not
look in the fridge and put a meal together. If I haven't thought about it earlier, we are eating sandwiches or cereal. Right now, my binder looks like this:
I started with an Avery binder I already had. I like it a lot. The pages turn easily and there are two pockets in the front and back. For the challenge, I'm going to create a cover similar to the one I made for my home management binder.
I keep all the recipes I use in the binder. If I like a recipe from the internet, I print it and put it in the binder. If I like a recipe from a cookbook, I copy the page and put it in the binder. All recipe cards I had, I put in the binder. This is necessary for me because out of sight is out of mind. If I don't see a recipe when I am planning, I will completely forget about it.
I put every recipe in a sheet protector. They keep everything uniform and protected. When I am using a recipe I take it out of the binder and if it gets splattered on, all I have to do it wipe it off.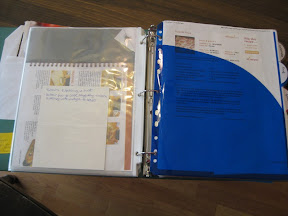 The only recipes I have in the binder are ones that I have tried. Any recipes that I want to try are kept in a separate folder. I think I'm going to change that a little. I tend to forget about the recipes I've collected. Also, when I'm making my meal plan I usually want to get it done so I don't want to take time to look through a ton of recipes in that folder. My dividers have pockets in them. I think I will start putting one or two recipes that I want to try from each category in the pocket. That way I'll have a few recipes I want to try picked out already.
I created my categories based on the recipes I already had. They work for me. Here are my categories:
chicken
beef
fish
pork
soups
casseroles
veggies & sides
bread
appetizers
desserts
vegetarian
drinks
breakfast
I considered using my label maker to change my divider tabs, like I did for my Home Management Binder. I think I'm just going to leave them the way they are. The tabs are rounded and I'm not sure I can make the label maker labels look very good.
I will post my cover when I finish it.